A magical holiday with KRC Yacht!
ABOUT US
WHY US?
OUR VISION
ABOUT US
Headquartered in Fethiye and operating in the Göcek region, KRC Tours, an experienced company in KRC Yachting, was established in 2017. Continuing service with Sunseeker Manhattan74 model 4 cabins and 8-person capacity KRC Yacht 2, which it acquired in 2018. KRC YACHT 2 is ready for you with its three-person crew (captain, cook and sailor). Our captain, Gökhan, with information about the most beautiful bays to visit in Göcek according to the season and density, our sailor Mustafa, who always makes every boat with his smiling faces and positive energy, and our Ramadan Chief, the masters of other departments, will be on your boat. KRC Tours pleases with specially designed tours in every way to prepare its programs.
WHY US?
OUR VISION
Let's make your special days more special!
Organization
Wouldn't you like to make the special days of your loved ones even more special? Let's prepare our boat with the colors and designs you want, just enjoy it with your loved ones. In the middle of the sea, in the idyllic bays and on the KRC Yacht, you can be sure that no one will forget a birthday party or anniversary. With our menu that our Ramadan Chef will prepare for you with special preferences, you will pass out with the effect of the music and the scenery, while your stomach is festive.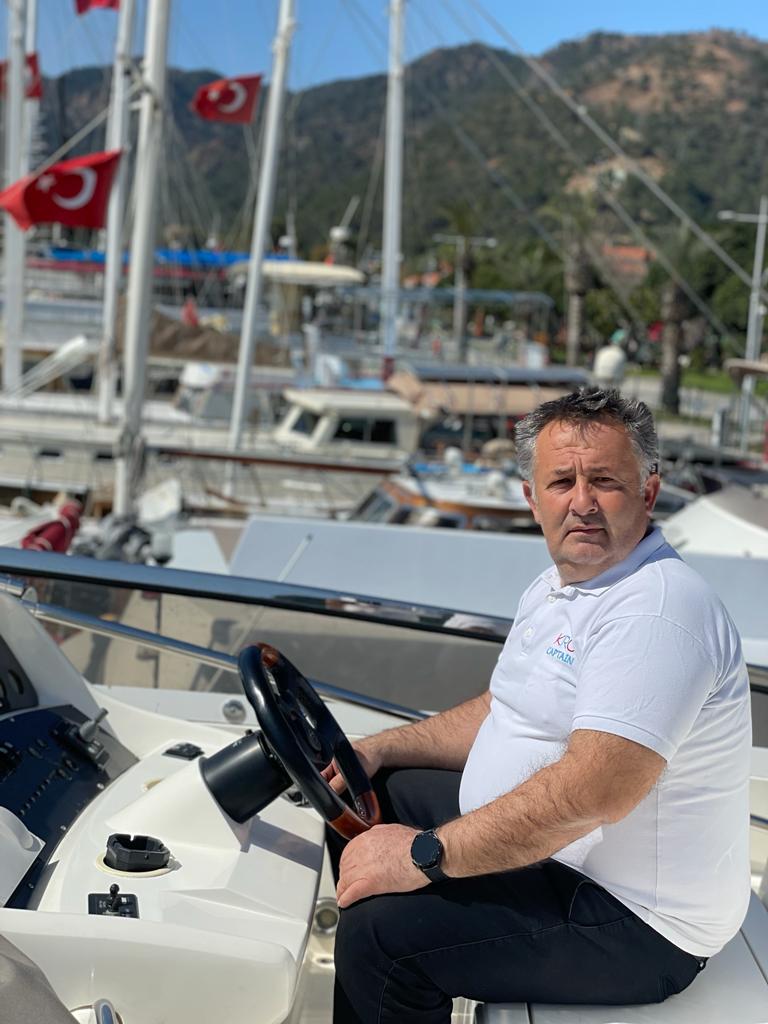 Gökhan Çelik
Captain
Gökhan captain has been in the industry for 31 years. Our captain, who enjoys sailing and has been doing this job for years due to all his achievements, is your most reliable address for Göcek bays.
Ramazan Gök
Chef
Our chef, who has been working on boats for 5 years and making everyone talk about his food on our boat, has been in this sector for 20 years. For our Ramadan chef, cooking is not only a passion but also one of his greatest pastimes.
Mustafa Şentürk
Sailor
He has been working for Krc Yacht 2 for the last year. He practices this profession because he loves meeting new people, communicating, seeing new places and the sea. It also takes very good photos.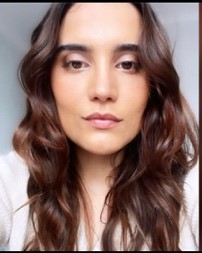 Şeyma Özdemir
"Çok rahat, hijyenik, eğlenmemiz için gerekli her şeyi barındıran bir tekneydi. Odalarının da ortak alanların da kullanımı çok rahattı ve dizaynı çok güzeldi. Eğlenmek istediğimizde partileyebildiğimiz, kafa dinlemek istediğimizde mavi ve yeşillere daldığımız çok güzel bir tatildi. Mürettebata her ihtiyacımızda belirip her kendi kendimize kalmak istediğimizde denizin ortasında biz bizeymişiz gibi hissettirdikleri için, güler yüz ve profesyonellikleri için çok teşekkürler!"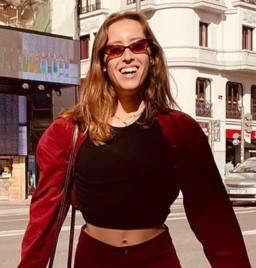 Alessia Ricchiuti
"Amazing experience! The boat was super comfortable and clean. The crew members have been so available, polite, and even taught me a bit of turkish. The meals were INSANE! I don't think i've ever eaten that much, with such pleasure. Really a great experience. 100% would recommend"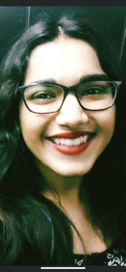 Kruti Pabari
"My stay on KRC Yacht was the highlight of my time in Turkey... it felt like I was on a different planet! Splendid facilities, breathtaking views and incredible staff who really cared... I couldn't have asked for more! Thank you to the team for sharing such an wonderful slice of what Turkey can offer."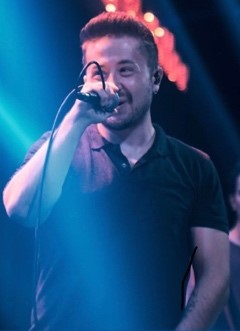 Hüseyin Demirkoparan
"Kaptanın koy bilgisinden, Ramazan şefin yemeklerine ve Mustafanın her ihtiyacımızı daha biz dillendirmeden hissettirmesine her anlamıyla 5 yıldız bir tekne ve ekipti. KRC Yacht'ı tercih ettiğimiz için çok şanslı hissettik. Bundan sonra her sene geleceğiz mutlaka. "
Slide
Özellikle ilk gün yassıca adalarını tavsiye etmemizin sebebi sadece büyüleyici suları ve doğası değil aynı zamanda ilk giriş saatinizden ötürü günün geri kalanını kaçırmamak için yakında bir nokta olması dolayısıyla size zaman kazandıracak olması. Göcek'e sadece 5 km uzakta olan bu cennet destinasyona hızlıca kendinizi atabilir ve tüm yorgunluğunu geride bırakarak berrak sularda huzuru yaşayabilirsiniz.
Slide
Özellikle günün erken doğduğu bir nokta olduğu için erken bir sabaha başlamak isteyenleri ikinci gün de bu koyda kalmaya davet ediyoruz. Ayrıca sığ noktaları sayesinde yüzme bilmeyen veyahut çocuklu aileler için en uygun noktalardan biri olan Yassıca Adalarına iki gün az bile gelecektir!
Slide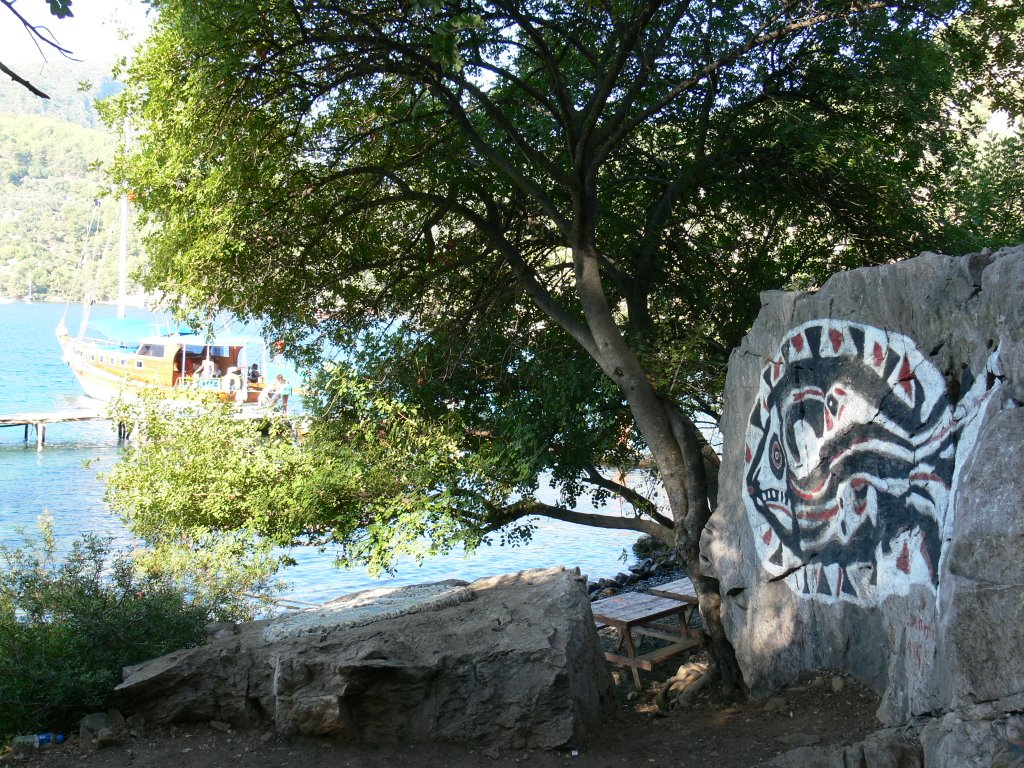 Bizce görülmeden gidilmemesi gereken koylardan biri de Bedri Rahmi Koyu. Ne demiş Bedri Rahmi "Bir yanım toprak, bir yanım deniz, denizden yanayım, bir yanım ben bir yanım sen, senden yanayım". Hem şair hem ressam Bedri Rahmi, şiirlerinde zeytin ağaçlarından çok bahseder. Göcekte bir vaktini bu koyda geçirip, duvara resim de çizdiğini düşünürsek şiirlerinin bu doğa harikası koydan etkilenmemesi işten değil. Sadece Bedri Rahmi'nin resmi değil, aynı zamanda tepelerde zeytin ağaçlarının arasında bulabileceğiniz Antik Likya Kaya Mezarları bu noktamızı kesinlikle uğranması gereken noktalardan biri haline getiriyor.
Slide
Güneşin nispeten geç doğabildiği bu koyumuza sabah kahvaltısından sonra gelebilirsiniz. Denizin altı kayadan oluştuğu için eşsiz bir renk ve yüzme tecrübesi sunan bu koyumuzun aynı zamanda kayalık ufak bir sahil kıyısı da mevcut. Karadan ulaşım olmamasına rağmen Camii ve köy bulundurması sebebi ile de yerel halkın da tekneleriyle uğradığı bu nokta gerçekten tam bir doğa harikası dersek abartmış olmayız. Fotoğrafta hiç filtre olmadığını söylesek bize inanır mısınız? İnanmıyorsanız kendi gözlerinizle tanık olmaya davet ediyoruz. 4.günümüzü de burada Ramazan Şefimizin hazırlamış olduğu harika akşam yemeği ile kapadıktan sonraki gün sabah erken saatte hiç istemesek de dönüşe geçerek siz misafirlerimize veda ediyoruz.
Hakan Kıraç
The sea passion of Hakan Kıraç, the founder of KRC Yachting, which was established within KRC Tours in 2017 and also the Chairman of the Board of Directors of KRC Elektromarket A.Ş., goes back a long way. In fact, one of Hakan's goals in life, who decided from childhood to name his first child Deniz, be it a boy or a girl, because of his love for the sea, is a boat that will strengthen his ties with the sea. He bought the motor yacht in 2017, which he had been visiting as a family guest for years since 2013, and brought together a team of sea lover and yacht organizations with great experience. Hakan, who took the service they provide to a higher level with the KRC YACHT 2 boat they bought in 2018, has made his passion for the sea felt by his team, which he personally cares for our customers, since its establishment.
Contact Info's
info@krcyacht.com
+90 530 148 8439
+90 533 923 3938